History of the Cemetery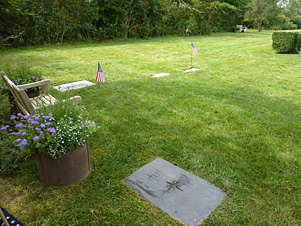 Nantucket Jewish Cemetery Association was formally incorporated with the Commonwealth of Massachusetts as a non-profit (501(c) 3) organization in 1987 and was established to "provide for the availability, operation, maintenance and improvement of gravesites for the burial of people of the Jewish faith in Nantucket."
Under the tireless leadership of Milton Zlotin and Eugene Ratner, a portion of land in the Lewis Memorial Section of Prospect Hill Cemetery was set aside and designated for Jewish burial practices in accordance with Jewish law. Under the arrangement, burial sites were to be purchased from Prospect Hill Cemetery and maintained and administered by a board of trustees elected by members of the Jewish Cemetery Association.
Since then, recognizing a growing need, an additional section has been added to the cemetery to serve the needs of interfaith Jewish families and those who may prefer cremation. Increasingly as families build their personal histories around Nantucket, they are turning to the island for its sense of peace and eternality when selecting the final resting place of loved ones. Thanks to the vision and dedication of Milton and Gene, the Jewish community of Nantucket has its own "city of David"
Peter Kahn, President
Gene Briskman, Treasurer
Elliott Pollack, Clerk